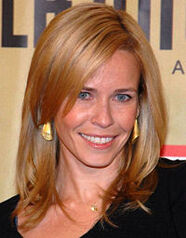 Chelsea Handler is a talk show host who made a cameo appearance as herself on The Good Wife.
Biography
Edit
Amber Madison, the prostitute that Peter had been sleeping with appeared on her talk show because she had been with many important politicians. and because she was writting a book about all of it. Chelsea asked Amber about the threesome that she had had with Peter, Amber told her that Peter had came to her bacause of that. Peter had asked his wife for a threesome but she hadn't agreed, Chelsea agreed that Alicia was a little fridgid.
Alicia, Zach and Grace Florrick all saw this video and were upset by it.
References
Edit