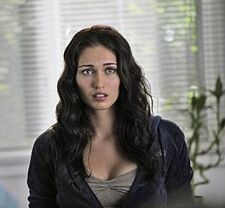 Christy Barbosa was a young woman working as a stripper in Chicago.
Lloyd McKeon, son of one of the city's most powerful families, booked her and another girl named Maura for his bachelor party, and later offered Christy one hundred dollars extra for a private dance. He then locked her in a bedroom and raped her. His family did everything to cover up the incident, and the district attorney decided not to charge McKeon.
Christy eventually went to Stern, Lockhart & Gardner, where Will Gardner and Alicia Florrick took her case. They were unable to convince the judge at the pretrial hearing that there was sufficent eveidence, but just when McKeon left the courtroom, the police arrested him, as State's Attorney Glenn Childs had decided to press rape charges after all.[1]
Backround
[
]
Christy was portrayed by actress Paloma Guzmán.
References
[
]