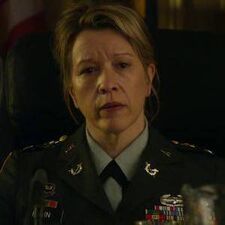 Colonel Leora Kuhn is an officer of the United States Army, and a military justice assigned to the Judge Advocate General's Corps.
She served as the presiding judge during Randall Simmons' court-martial,[1] and reappears, presiding at the court-martial of Gina Elkins.[2]
In The Art of War, Colonel Kuhn seeks the aid of Lockhart/Gardner in Capt. Laura Hellinger's civil suit against a military contractor who sexually assaulted her in Afghanistan. Initially wary of becoming too involved, Alicia manages to convince her to find a way to bring in an officer stationed in Afghanistan, so he can testify in the case.
Background
[
]
Colonel Kuhn was played by actress Linda Emond.
References
[
]
3. ↑ Episode 4x06 - "The Art of War"