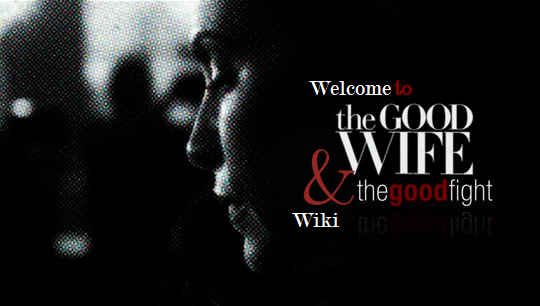 Welcome to Chicago
This wiki is about The Good Fight and its predecessor series, The Good Wife, both now available on Paramount+. The two drama series chronicle the lives of various lawyers who are in the orbit of Chicago's Cook County State's Attorney's Office.
The franchise started in 2009 on CBS and The Good Fight remains in production as a Paramount+ Original.
About the good fight
The Good Fight is a Paramount+ Original series, though it started life on CBS and CBS All Access. As of 2021 it remains in production, continuing the universe began in The Good Wife. debuting on the streaming service when it was known as CBS All Access, originally aired on CBS from 2009 to 2016.
After a financial scam destroys the reputation of young lawyer Maia Rindell and wipes out her mentor and godmother Diane Lockhart's savings, the two are forced out of Lockhart & Lee and join forces with Lucca Quinn at one of Chicago's pre-eminent law firms. At Reddick, Boseman & Kolstad, Diane finds familiar faces, including Colin Morrello, who is a rising star in the state's attorney's office, and Marissa Gold. Though starting at the bottom, Diane and Maia are determined to rebuild their careers and lives at the new firm.
The series stars Christine Baranski, Rose Leslie, Cush Jumbo, Erica Tazel, Sarah Steele, Justin Bartha, Delroy Lindo, Nyambi Nyambi, Michael Boatman, and Audra McDonald, and features Paul Guilfoyle and Bernadette Peters in recurring roles.
About the good wife
The Good Wife originally aired on CBS from 2009 to 2016. Now available on Paramount+, it primarily tells the story of Alicia Florrick, wife of Cook County State's Attorney, Peter Florrick.
A very public sex and political corruption scandal mires Peter in prison, leaving Alicia Florrick (played by Emmy-winner Julianna Margulies) to assume responsibility for her family. Simultaneously, she is forced to get past the humiliation and betrayal inherent to the scandal. In so doing, she resumes her career as a defense attorney, shedding her persona as the embarrassed wife of a politician, and taking charge of her destiny. Years later, after Peter wins the gubernatorial election, Alicia must balance her evolving career and family responsibilities with her new position as the first lady of Illinois.
We are a community database on The Good Fight - and its predecessor series, The Good Wife - created by fans, for fans. We are dedicated to building a comprehensive and informative resource about all things related to the two series, now available on Paramount+.
We also have a place for getting to know each other and to talk about Debris in our Discussions. Whether you are here to start editing or to chat with fellow users, you are welcome to sign up for an account!